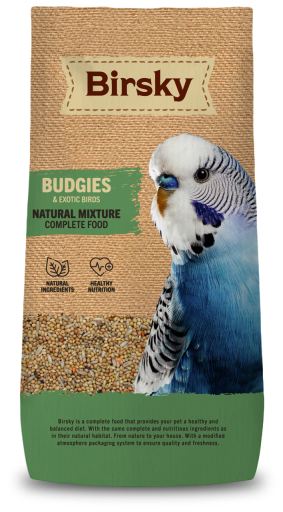 Description
Mixture Budgies & Exotic Birds Birsky
Birsky Parakeet and Exotic Bird Mix er en frøblanding, der giver de vigtigste næringsstoffer til en komplet og afbalanceret kost. Birsky Parakeet og Exotic Birsky indeholder gul og rød hirse, som giver den nødvendige energi. Den indeholder også havre, som vil hjælpe med at aktivere deres stofskifte og forbedre fordøjelsen. Kanariefrøene i denne blanding giver ham de proteiner, han har brug for, og brødfrøene vil forbedre hans fordøjelse.
Negrillo er også til stede i denne blanding, da det er et energirigt frø, der er rig på fedtsyrer, der plejer vores gravfuglens fjerdragt og hjælper med at gøre den mere skinnende og silkeagtig.
Parakitten er en af de mest populære og velkendte fugle, bl.a. takket være dens selskabelige natur og dens lethed til at tilpasse sig et hjemligt miljø. En venlig, snakkesalig lille fugl, der godt kan lide selskab. Frøblandinger som f.eks. Birsky's Mixture bør være grundlaget for deres daglige kost. Det giver dem al den energi og alle de næringsstoffer, de har brug for for at holde sig sunde og raske og i god form.
FORDELE:
- Naturlige ingredienser
- Ingen tilsat sukker
- Fri for GMO (genetisk modificerede organismer)
- Højt indhold af protein
- Lavt fedtindhold
- Indeholder fedtsyrer, der plejer din fugls fjerdragt og får den til at se mere skinnende og silkeagtig ud.
- Høj kvalitet
BRUGSINSTRUKTIONER: Server foderautomaten som den er, og hold altid rent, frisk vand til rådighed for fuglene.
Ingredients
Mixture Budgies & Exotic Birds Birsky
INGREDIENTS: Yellow millet, Birdseed, Red millet, Paniset, Peeled oats, Bakery and pasta product, Negrillo, Nabina, Vegetable oil, Banana flavor.
NUTRITIONAL CHARACTERISTICS (per 100 g of product).
ANALYTICAL COMPONENTS: Protein 19.89%, Fat 5.22%, Moisture 12.89%, Calcium 0.03%, Phosphorus 0.27%, Carbohydrates 57.6%, Ash 2.71%, Energy 304.6 kcal, Magnesium 0.11%, Potassium 0.27%.
MICROBIOLOGICAL CHARACTERISTICS: Salmonella (/ 25 g) Absence, Escherichia Coli (cfu/g) < 100.
CHEMICAL CHARACTERISTICS: Lead (mg/kg) < 10, Cadmium (mg/kg) < 1. COLORINGS: E124, E122, E102, E131, E110.
Features
Mixture Budgies & Exotic Birds Birsky
With millet, oats, canaryseed and bread seeds

Fatty acids for coat care

Rich in protein and low in fat

Sugar and GMO free
Reference

8436579243579

Weight

800 GR, 3 Kg, 6 KG, 1,6 KG

Bird Type

Exotic Birds, Parakeets

Brand

Birsky, Birsky, Birsky, Birsky

Format
Customer Reviews
Mixture Budgies & Exotic Birds Birsky