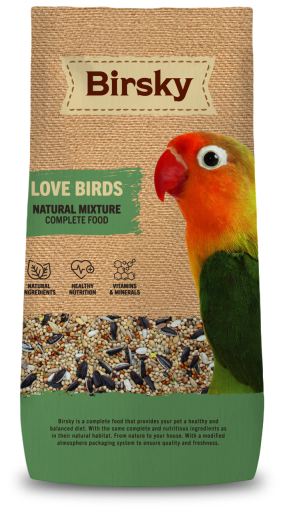 Description
Mixture Love Birds Birsky
Birsky's Agaporni Mixture er baseret på en blanding af frø og korn for at opfylde deres krav som kornædende fugle.
Denne kost består af forskellige typer af hvid, gul og rød hirse, som giver dem en vigtig kilde til kulhydrater, fibre, vitaminer og mineraler. Kanariefrøet giver dem energi, mens havregrynene hjælper dem med at forbedre deres fordøjelsesprocesser. Denne blanding indeholder også små solsikkefrø, saflor og byg med en kraftig antioxidantvirkning, der styrker deres immunsystem.
FORDELE:
- Høj fordøjelighed
- Kilde til energi og protein
- Høj kilde til vitaminer og mineraler
- Naturlige ingredienser
- Uden tilsat sukker
- fri for GMO (genetisk modificerede organismer)
Sådan bruger du den: Server den i foderautomaten som den er, og hold altid rent, frisk vand til rådighed for fuglene.
Ingredients
Mixture Love Birds Birsky
INGREDIENTS: Yellow millet, Small sunflower seed, Red millet, White millet, Canary seed, Peeled oats, Safflower, Barley, Black sunflower seed, Bakery product and pasta production, Hemp seed, Corn, Wheat, Tigernuts, Vegetable oil, Banana flavor.
NUTRITIONAL CHARACTERISTICS (per 100 g of product).
ANALYTICAL COMPONENTS: Carbohydrates 59.60%, Fat 13.70%, Protein 12.50%, Moisture 11.30%, Ash 2.90%, Potassium 0.415%, Magnesium 0.16%, Calcium 0.09%, Phosphorus 3700 mg / kg, Energy 411.9 Kcal / 1723 KJ.
MICROBIOLOGICAL CHARACTERISTICS: Salmonella (/ 25 g) Absence, Escherichia Coli (cfu/g) < 100.
CHEMICAL CHARACTERISTICS: Lead (mg/kg) < 10, Cadmium (mg/kg) < 1. ADDITIVES: Vitamin 1.36%. COLORANTS: E124, E122, E102, E131, E110.
Features
Mixture Love Birds Birsky
With selected variety of seeds and cereals

High in vitamins and minerals

Natural food

Free from sugars and GMO
Reference

8436579243616

Weight

800 GR, 3 Kg, 6 KG, 1,6 KG

Bird Type

Love Birds

Brand

Birsky, Birsky, Birsky, Birsky

Format
Customer Reviews
Mixture Love Birds Birsky