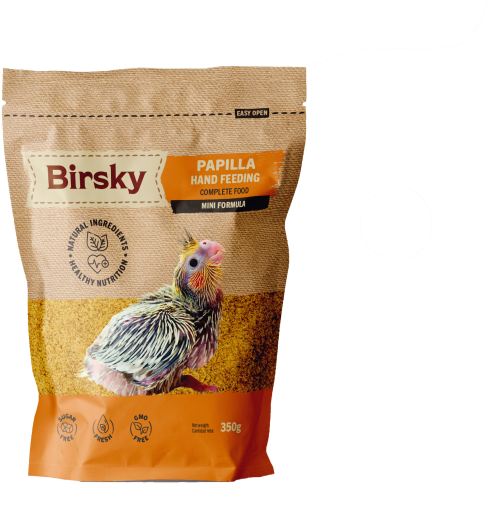 Description
Papilla Hand Feeding Mini Formula Birsky
Birsky's Cockatiel and Lovebird Mash er velegnet til fodring fra fødslen og i de første uger af livet. Den er fremstillet af råvarer, der er specielt udvalgt og forarbejdet for at fremme barnets udvikling og lette dets kost.
FORDELE:
- Det vil styrke deres immunforsvar og fordøjelsessystem.
- Indeholder naturlige antioxidanter som rosmarinekstrakt, olivenolie og citronsyre.
- 29% vegetabilsk protein, majs og ris
- ølgær, et kosttilskud, der er rig på protein, aminosyrer og mineraler
Solsikkefrø, i små mængder, rige på fedt og meget velsmagende - de elsker dem!
SÅDAN BRUGER DU:
Anvendelse: Fortynd en del grød til hver to dele vand.
Bemærk: Opbevares køligt, tørt og beskyttet mod skadedyr og insekter. Hold beholderen lukket efter hver brug og undgå direkte sollys.
Ingredients
Papilla Hand Feeding Mini Formula Birsky
INGREDIENTS: Corn, Rice, Corn gluten, Soy protein concentrate, defatted soybeans, sunflower seeds, hydrolyzed wheat protein, whole soybeans, brewer's yeast, flaxseed oil, orange juice, Spirulina.
NUTRITIONAL CHARACTERISTICS:
ANALYTICAL COMPONENTS: Crude protein 29.5%, Crude fiber 5.5% Crude oils and fats 15%, Crude ash 6.5%, Moisture 9%, Calcium 1.1%, Phosphorus 0.8%.
NUTRITIONAL ADDITIVES: Vitamin A 11,000 U.I., Vitamin D3 2,500 U.I., Vitamin E (alpha-tocopherol acetate) 250 mg, Vitamin K3 3 mg, Vitamin B1 6 mg, Vitamin B2 20 mg, Vitamin B6 8 mg, Vitamin B12 0.10 mg, Nicotinic acid (E314) 100 mg, Pantothenic Acid 20.00 mg, Folic Acid 4 mg, Vitamin C 400 mg, Iron (ferrous sulfate) (E1) 80 mg, Iodine (potassium iodide) (E2) 1 mg, Copper (cupric sulphate pentah. ) (E4) 17 mg, Manganese (oxide) (E5) 75 mg, Zinc (oxide) (E6) 50 mg, 3b8.10 Selenium (organic form of selenium produced by Saccharomyces cerevisiae) 0.2 mg.
COLORANTS: Antioxidants (Natural antioxidants from mixed tocopherols, rosemary extract, citric acid and olive oil).
Features
Papilla Hand Feeding Mini Formula Birsky
Suitable for their first weeks of life

29% vegetable protein

Strengthens their immune and digestive system

Made with natural ingredients
Reference

8436579243760

Weight

350 GR, 700 GR

Product Type

Porridge

Bird Type

Love Birds, Cockatiel

Brand

Birsky, Birsky, Birsky, Birsky
Customer Reviews
Papilla Hand Feeding Mini Formula Birsky