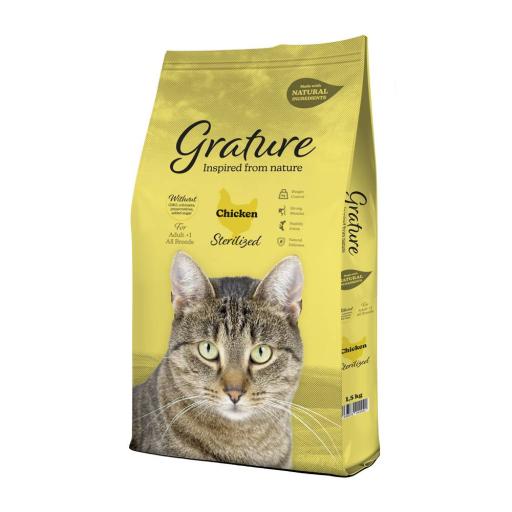 Description
Sterilized Cat Chicken Grature
Ingredients
Sterilized Cat Chicken Grature
COMPOSITION:

Meat (poultry min. 10%; beef minimum 15%), malted barley, whole maize, wheat derivatives, pulses (carob fibre), poultry fat, poultry liver hydrolysate, lignocellulose, brewer's yeast Saccharomyces cerevisae, minerals, taurine, mineral chelates, choline chloride, chondroprotective complex (glucosamine hydrochlorate, chondroitin sulphate, extract of green lipped mussel (Perna canaliculus), yeast walls as a source of MOS and beta-glucans, probiotics (E. faecium NCIMB 10415 15x106 cfu)



ADDITIVES per kg:

Nutritional additives: Vitamin A 28000 IU, Vitamin D3 1750 IU, Vitamin E 195 mg; Taurine 1400 mg; Iron 75 mg (iron sulphate II
monohydrate); Iodine 2 mg (potassium iodide); Copper 12 mg (copper (II) sulphate pentahydrate); Manganese 35 mg (manganese oxide);
Zinc 75 mg (zinc oxide); Selenium 0,2 mg (sodium selenite). Technological additives: antioxidants and acidifying agents.
Features
Sterilized Cat Chicken Grature
Reference

8436579244040

Weight

12 KG, 4,5 KG, 13,5 KG, 1,5 Kg

Age

Adult, Senior

Flavor

Chicken

Brand

Grature, Grature, Grature, Grature

Special Cares
Customer Reviews
Sterilized Cat Chicken Grature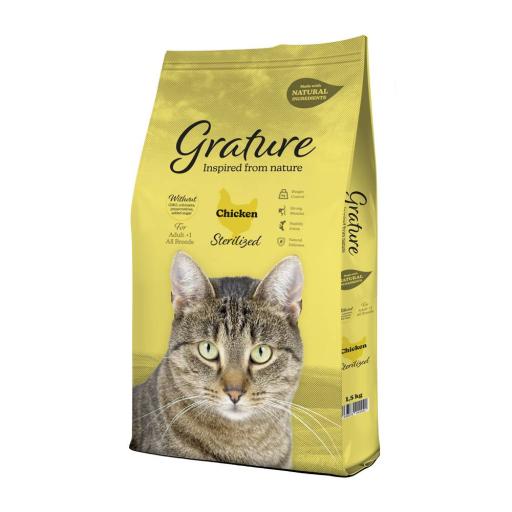 Os gulosos lá de casa adoraram!